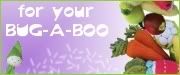 Drea over at Simple reviews
if having a really nice giveaway. Shes offering a wooden train toy. I love the wodden toys. Alanna got a couple of wooden puzzles for Christmas and she plays with them all the time. I think the wooden toys are a great classic toy and they seem to last much longer than the plastic toys you see now a days.
For your Bug-A-Boo
is a great website that offers so much. Check it out. Drea also has a coupon code if your interested.